Last Updated on June 5, 2022 by Guillermina
Can hummingbird nectar be too sweet? Read this article and avoid fatal mistakes.
That first moment when a hummingbird zips into your yard and stops at a hummingbird feeder that you set just for him is indescribable. We think we all agree on this. However, truth be told, being the keeper of a hummingbird feeder can be quite challenging.
As simple as it is to provide nectar for these hungry birds, it is just as easy to make a mistake and endanger hummingbirds. Namely, the minor mistakes might discourage hummingbirds from visiting, but those major ones can create a toxic mixture that can be fatal to their lives.
We get tons of questions from our readers, and one of the most common is "can hummingbird nectar be too sweet?" Therefore, stay with us and find out the answer.
What Foods Do Hummingbirds Eat?
If you want to attract these magnificent flyers, then you definitely need to know what kind of food they eat. Hummingbirds consume nectar and insects to be able to meet their nutritional daily needs. The simple sugars in natural nectar that they get from various plants, flowers, or hummingbird feeders give them almost all the daily energy they need to survive.
However, as we mentioned, nectar is not the only food they consume, hummingbirds also like various insects such as gnats, mosquitoes, and spiders. They are their daily dose of protein. Did you know that these adorable creatures are able to adapt to their habitat better than most birds? Namely, they do not live only from sugar water or nectar alone, moreover, hummingbirds need vitamins, fats, and proteins in order to have a balanced diet.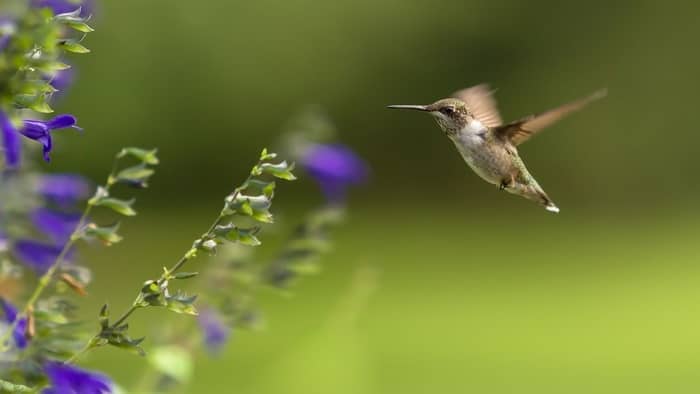 To be the most powerful aviator in the sky, they need to have a lot of strength and endurance, and a balanced, nutritionally rich diet is what allows them to do so. Nectar, whether natural from plants and flowers, or from feeders is one of the best foods because it provides hummingbirds the quick and necessary fuel to sustain their extremely high metabolism.
Let's not forget the proteins, because they maintain and support their pectoral muscles, which are located in their wings, to make them remarkably strong and aerodynamic flyers. A nutritionally rich and balanced diet gives them an advantage of protecting their territory, displaying a mating dance as well as hovering for long periods of time.
Now that you are familiar with their diet, you are one step closer to finding out the answer to the question "can hummingbird nectar be too sweet?" So, let's move on to the next part.
How Much & Often Do Hummingbirds Eat?
Since they constantly burn energy, hummingbirds may eat up to three times their body weight in just one day. To make it easier to imagine, they consume the weight of about 2 instant hot chocolate packets a day. Did you know that they eat on average every 10 minutes?
Namely, during the day, in other words for the entire duration of sunlight, hummingbirds are constantly searching for food to replenish their high energy and nutritional needs. Although many claim the opposite, these beautiful birds do not use their tongue like a straw; moreover, they are capable of lapping up nectar up to 15 times per second when they feed.
Click here to read more about the recipes as well tips for feeding hummingbirds.
We have now come to the main part of this article, the answer to the question "can hummingbird nectar be too sweet?" Keep reading and find out.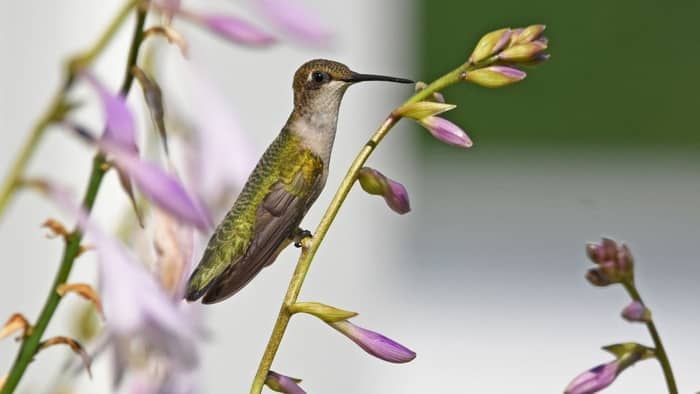 Hummingbirds & Sugar Water; Can Hummingbird Nectar Be Too Sweet?
In addition to adoring insects and nectar, hummingbirds are also attracted to sugar water, as it tastes like flower nectar. If you are in the mood to experiment, feel free to add this treat to your feeder, as it can help attract them to your garden.
According to some research, the amount of sugar water that a hummingbird will consume depends on the richness of the sugar concentration. With a typical 4: 1 ratio of water and sugar, the average hummingbird in most cases will not drink more than about 2 ounces of fluid per day.
However, can hummingbird nectar be too sweet? It should really be emphasized that the right ratio of sugar and water is essential for two reasons. Namely, too little sugar in the solution will not provide the necessary calories, and on the other hand, too much can be fatal because it can harm the liver and kidneys of hummingbirds. Accordingly, the answer is yes, hummingbird nectar can be too sweet.
In Conclusion  
In our opinion, feeding these beautiful creatures is a fulfilling venture that connects us to nature in a unique way. Helping them survive is one of the noblest hobbies a person could develop. If you have them nearby, it's never too late to start making friends and bonds with these beautiful wonders of nature.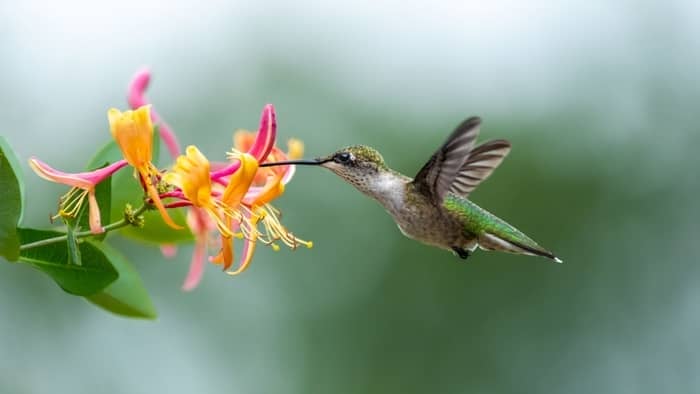 Have you ever made a mistake in determining the ratio of sugar to water? Write us your answers in the section below. We are looking forward to your reply.
Happy hummingbird watching everyone!
Take a look at this article as well.
FAQs
What Is The Correct Ratio Of Sugar To Water For Hummingbirds?
The correct ratio of sugar to water to feed hummingbirds is one (1) part sugar to four (4) parts water. To make it easier to understand, we have prepared a practical example for you, so if you have a feeder that will hold five cups of water, make nectar with four cups of water, then dissolve one cup of water in nectar.
How Often Should You Change Hummingbird Nectar?
You must regularly change your feeder's nectar, even if it is not completely eaten. In terms of frequency, on warmer days you need to change it every two days, and on colder days once a week it's just fine.
Where Should You Not Hang A Hummingbird Feeder?
Avoid at all costs hanging feeders too high or deep in a dense flowerbed that are a challenge to reach.
What Time Of Day Do Hummingbirds Come To Feeders?
In short, hummingbirds feed between dawn and dusk. Night feedings are rare, as low temperatures can cause freezing and eventually death.