Last Updated on March 1, 2022 by Guillermina
Are you a hummingbird lover and looking for ways to attract them to your yard? Then you should probably consider using a unique or unusual hummingbird feeder. Unusual hummingbird feeders are great for adding that touch of uniqueness to your hummingbird's garden activities.
When we say a hummingbird feeder is unusual, we are implying that the feeders we hang are designed in a unique way for these hummingbirds to be lured to our yards.
It's an exciting and captivating feeling seeing hummingbirds flying around our garden and bringing their various fascinating activities to our gardens. As a hummingbird enthusiast, we would love to do all we can to make our garden a conducive and attractive abode for these lustrous birds to stop by our yards once their season begins.
Now let's delve in and look into some things about unusual hummingbird feeders. We will also give you some examples of some of these unique feeders and how you can hang them properly.
Unique Hummingbird Feeders
Unusual hummingbird feeders or unique hummingbird feeders are designed in a special way to please both hummingbirds and humans. These unique hummingbird feeders are designed in a way that can also make your garden look appealing.
There are a variety of these unique feeders in the market that are made in different styles, shapes, and sizes. These feeders are also made from different materials that make them look more irresistible.
Here are some examples of the unique hummingbird feeders you can find:
This is a uniquely vibrant and colorful hummingbird feeder that makes them look more attractive. It is made from a reliable glass material that is sturdy and durable.
The pigment is very reliable and it won't get damaged or fade away. The rings are perfectly sealed to prevent any leakage. It is easy to refill and easy to dissemble are rearrange when it's time for cleaning it.
These unique feeders are made by highly talented artisans with a finishing touch done by hand. The materials used are toxic-free and lead-free.
This unique feeder can also serve as a lovely gift to your loved ones such as friends and families.
This is a uniquely mushroom-designed hummingbird feeder that is made of bright colors to attract our sweet hummers.
A grateful gnome feeder has the capacity to hold up to 32 ounces of sweet nectar. It also features about 5 feeding ports and also a perch for your hummingbird to relax while they sip nectar from your feeder.
This feeder has also made sure to include the S-hook feature to make it easy for you to hang this feeder anywhere.
This feeder is uniquely handmade by experienced glass artisans making them a stylish type of hummingbird feeder. They are also durable and made from reliable materials and this is because the copper base that helps in reinforcing the strength of the bottle.
The perky-pet hummingbird feeder is another uniquely made feeder. It has 16 ounce capacity with 4 feeding ports. This vintage-style bottle gives an old-fashioned classiness.
Also, the deep red color features make this feeder more reliable to attract hummingbirds easily.
This hummingbird feeder is easy to manage and this means you can easily clean them and refill your nectar solution when necessary. It also features a hanging loop and a removable base.
This is another amazing uniquely made feeder for your hummers. It has a generous nectar capacity of about 32 ounces and it is stylishly made of copper vine detailing.
We also admire the appealing flower decorated around the feeder. So this feeder can give a high chance of attracting sweet hummers to your yard.
This feeder is also easy to reassemble making it easy for refilling and cleaning. There is an inbuilt hang for an easy hook that makes it easy for you to hang the feeder anywhere outdoors. It also features 4 different feeding ports.
Additionally, it has an integrated perch that allows your birds to eat and relax.
Tips To Properly Hanging Hummingbird Feeders
Now that we have seen some unusual hummingbird feeders you can go for, let's look into some great tips on how you can properly hang them for a better result:
Position feeders close to radiant flowers
You should radiant plant flowers that have been known to attract hummingbirds in your garden. Then hang your hummingbird feeder close to these colorful flowers. Doing this will further make it easier for hummingbirds to locate your feeders.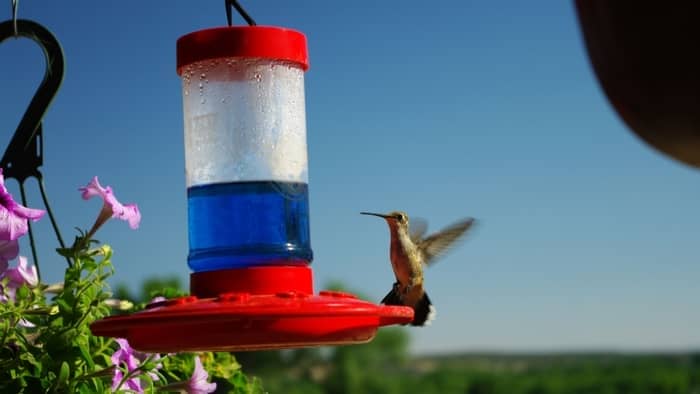 Hang feeders for easy access
The feeders should be hung in a way that will make it easy for you to access the feeder for refilling and cleaning. Ideally, you may hang your hummingbird feeders around 5 feet above the ground.
Hang feeders in a less sunny spot
It is important you hang or position your feeders in a shaded spot. Hanging them in a sunny area can diminish the quality of your nectar.
This is because nectar solution tends to ferment quickly in hot environments and when this happens, the taste nectar solution will turn unpleasing to hummingbirds. This can cause them to abandon your feeding station and make them look elsewhere for a reliable food source.
Surroundings should be clear of foilage or obstacles
Having foilage or obstacles around your feeders may encourage uninvited guests such as mice, squirrels, or even cats to come close to your feeders. This can expose your sweet hummers to become prey to these uninvited predators.
Also, your feeders should be a bit far away from walls, fences, or anything that can allow hummingbird predators to climb on and jump onto the feeder position and attack or prey on hummingbirds.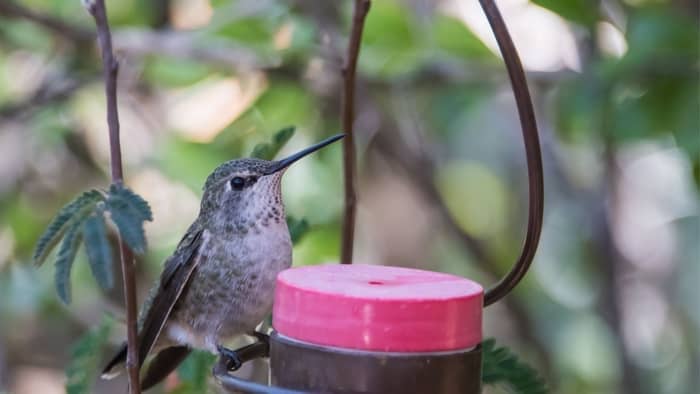 Final Note
Attracting hummingbirds to our gardens and watching them fly around our gardens is a pleasing experience to behold. Unusual hummingbird feeders or unique feeders can be incorporated into your garden to further encourage these lustrous birds to stop by.
FAQs
Are window hummingbird feeders good?
Yes, window hummingbird feeders are good especially if you look to experience hummingbird activities close to your window in the comfort of your home.
Do hummingbirds like feeders high or low?
It's best to hang feeders at middle range height if around 4 to 6 feet. This can keep hummingbirds safe from predators such as cats that have the ability to jump and try to prey on hummingbirds.
Should hummingbird feeders be in sun or shade?
Hummingbird feeders should be in a shaded spot. Shaded spots can limit nectar from fermentation and turn unpleasant to hummingbirds.
Eunice is a passionate lover of hummingbirds and all things nature. She loves to observe and study the tiny birds, learning about their unique behaviors and unique features. She has written a number of articles about hummingbirds and their habitats, which have been featured in a variety of publications. In her spare time, she enjoys visiting hummingbird sanctuaries and going on bird–watching trips in her local area. She also volunteers with local wildlife rescue organizations, helping to rehabilitate injured birds. When she's not outdoors, Eunice can be found writing articles, creating bird–inspired art, and playing the flute.