Last Updated on January 10, 2023 by Cristina
Check out this article and learn how to make a hummingbird bath. Adding a water feature to your garden or yard is a great way to attract a variety of birds, however, it's not exactly the smartest solution for attracting hummingbirds. These gentle creatures actually require special attention as they can drown very easily.
If you want to enjoy watching them while you sip your afternoon tea, keep reading this article to find out how to make a hummingbird bath that will provide everything they need without compromising their well-being.
Tips For Your DIY Hummingbird Baths
Fountains aren't for everyone's budget, and besides, it's hard to find one that will match what you have envisioned in your head. Maybe you are looking for a statement piece or something that is shallow and safe enough for tiny hummers, or even something you won't regret if it breaks because you didn't invest a lot of money. Either way, once you understand the qualities of the perfect bath, you can create the perfect design for these little flyers.
Always keep this in mind:
Be sure to provide one shallow section that should be no more than half an inch deep, as these birds don't enjoy frolicking and splashing in the water as much as other birds do.
Hummers don't like stagnant water, they prefer moving one. Feel free to do your best to give them a spraying, gentle, and bubbling experience.
Don't forget to throw in some rocks, stones, and pebbles, as these birds are crazy about them because they can easily grip their feet and rub against them to scrub feathers.
So, how to make a hummingbird bath? Find the best ideas below; we really tried to find very simple designs that don't require a lot of money or your time.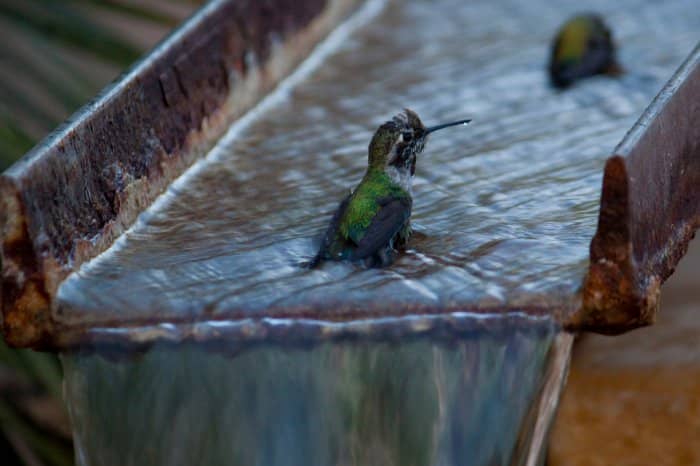 Click Here to Get Info About:
Hummingbird Mister DIY Bird Bath
Materials
5-gallon plastic container
2 unthreaded 1/2-inch PVC pipes
1 piece threaded 1/2-inch PVC pipes
2 PVC elbows
1 PVC cap
PVC cement
PVC adhesive
Steel wool
Submersible pump
Rocks and bricks for decoration
One 1/2-in.-female-to-5/8-in.-male adapter
3 misters
Additional: Spray primer, paint, and finishing spray.
Step By Step Guide – Mist Edition
#1: The first thing you have to do is cut the unthreaded PVC pipe, to be more specific, cut a 14-inch piece for the left leg and a 15-inch piece for the top. In the larger piece, drill one hole in the middle for the top part and then two holes on each side for the bottom part.
#2: The third piece of pipe should be threaded at both ends, and about 12 inches long. Carefully attach the adapter to the end of the threaded pipe and the pump, and in the meantime, don't forget to put the cap on the left leg. Measure, mark, and cut. You should have a large U at the end.
#3: Using steel wool, thoroughly rub the ends of the PVC pipe and the inside of the PVC elbow to ensure that they can be securely joined together. Clean, apply a generous coat of PVC glue, and allow it to dry. Once dry, paint in bright colors to attract the hummingbird's attention!
#4: Insert the misters and add a very small amount of cement to the base making sure not to block the openings. Let it dry.
#5: Connect the piping to the pump, put it in a plastic container, and secure it with a few rocks and/or bricks, and viola, you are done!
Sanco 88002 Bird Bath & Fountain Maintenance, 8 oz. Natural
Tabletop Hummingbird Bath
This is one of those simple homemade bird bath ideas that you have to give a chance.
Materials – How To Make A Hummingbird Bath
Container no deeper than 5 inches. Preferably wide-rim soup bowl shape.
A submersible pump (solar-powered or electric).
Some rocks
Step By Step Guide – How to Make a Hummingbird Bath
Trust us when we tell you, it doesn't get any easier than this!
#1: Place the pump in the center of the container you have chosen.
#2: Arrange a few fist-sized rocks around the pump to ensure it stays firmly in place while creating more shallow areas for these birds to enjoy.
#3: Add water, but only enough to cover the pump except for the tip of the nozzle, you want to leave that part out. Also, it would be good to leave a few rocks sticking out of the water as their texture is excellent for these birds to grab with their feet and for rub against to scrub feathers.
#4: Place the bathtub in the desired location and that's it!
That's it, now you know how to make a hummingbird bath!
"Disappearing Water" Fountains
If you are wondering how to make a hummingbird bath without spending too much time on putting it together or wracking your head over which parts will or won't fit, try buying a bird bath kit online.
Most of them contain all the parts you need to assemble the fountain, and all you have to do is to put them together and place them in the desired location. Simple as that!
The procedure is very simple, just bury a basin that acts as the reservoir for the fountain and connect the vase on top. The water will come out through the top of the vase and then return to the ground, empty back into the basin and that's it, with a few simple steps and no hassle you have a disappearing water fountain.
To Conclude – How To Make A Hummingbird Bath?
By providing water for hummingbirds, each of us can enjoy watching these beautiful creatures having the best time of their lives. Water helps keep them healthy and clean, and if you don't disturb them too much, they will return to your yard year after year. Do you have any ideas or tips on how to make a hummingbird bath? Tell us more below!
Recommended: Do Hummingbirds Have Tongues? Thought-Provoking Information: 14 Times In Just 1 Second