Last Updated on March 28, 2022 by Cristina
Wireless birdhouse cameras can help you spy on your little hummingbirds and enjoy their hovering from a distance. If you judge well and mount the camera near their nesting spot, you might see their young! However, there are a few features you must pay attention to before purchasing the equipment.
Good wireless birdhouse cameras must have a suitable memory, high-quality video, night vision, and be user-friendly. We've picked the best models currently on the market, and you don't have to be tech-savvy to install them.
Why You Need a Birdhouse With Camera
All hummingbird lovers have thought about a way to record the hummingbird's dance. Some have successfully managed to snap a few photos. But what about videos? Caring Ethernet cables from the house to your nearby tree is unreasonable. So how else would you record the fast birds?
This is where wireless birdhouse cameras can help. Most of the models blend in with the environment and won't scare the birds.
Moreover, you can invest in birdhouses with a camera where you can follow the nesting and hatching of the new generation of hummingbirds. While it's not guaranteed that the hummingbirds will use the ready-made birdhouse, the result is worth trying.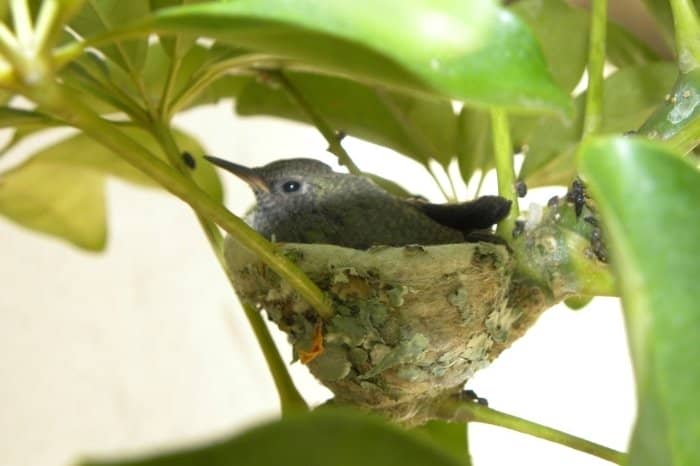 Birdhouse Camera: Wifi or Not?
If you're skeptical about wireless technology, rest assured that most of our suggestions provide excellent video quality. Some have night vision, so you can post the hummers in the torpor state.
Wireless birdhouse cameras are flexible; you can install them anywhere in your garden, on tall trees, patios, or flower baskets. As a bonus, they won't ruin the aesthetic of your garden.
Still wondering how does a wireless bird box camera work? The small camera has an SD slot for a memory card that keeps all photos and videos. Some models come with an app to connect to your phone and sneak a peek any time of the day. Some are powered with extension cords; others use batteries. The rare IP cameras use Ethernet cable for both power and internet connection.
The Best Wireless Birdhouse Cameras
This is the ultimate bestseller among the wireless birdhouse cameras. The Hawk-Eye camera comes with 100-foot long power cord, a night vision option, a focus lens, and a microphone. In addition, it has a wireless reach of 300 foot!
The image and video clarity are fantastic, and you can easily spot details. Even infrared night vision provides an acceptable quality. You can even transmit the footage to your smart TV!
The low transmission range is probably the only downside, but it's a small bump in an otherwise excellent product. A motion in the line of vision might disturb the wifi signal.
Green Feathers is a brand with a wide range of wireless birdhouse cameras. Each new model is improved and provides videos with high-resolution details.
Their WiFi Bird Box Camera is perfect if you want to mount it on a preexisting nest or birdhouse. Connect it with your computer, and it can record a full day of color footage. The night vision is immaculate.
This camera comes with 164-foot coverage, a microphone, a wide-angle lens, and great resolution.
The RSPB Nest Box Camera System is the whole package. It comes with a birdhouse made of FSC certified wood, LEDs for clear night footage, a microphone. The camera provides color images during the day, and with the 98-foot cord, you can watch them directly on your TV or computer.
The birdhouse can be closed or open, so you can use it even after the hummingbird season has passed.
Another model from Green Feathers that's compact, discrete, and with good resolution. It comes with excellent night vision powered by invisible IR LEDs. It comes with a 130-degree view, a microphone, and an extendable power cord. All it needs is 2 wifi signal bars to work.
If connecting wireless birdhouse cameras with the computer is not your thing, you can insert a memory SD card and enjoy the footage later.
There's nothing suspicious about this birdhouse on the outside. However, inside the pitched roof, you'll find a high-resolution camera with a wide lens. This handmade set comes with a highly sensitive microphone, a motion detection sensor, and an SD slot.
For 25% more of the original price, this is an updated version of the RSPB Nest System camera. The newer version has a window roof that allows more light to penetrate and provides better footage.
RSPB stands for Royal Society for the Protection of Birds, so it's a brand you know spent time to make this camera ideal for birdwatching. The best part of this updated version is that it works as a motion-activated camera. Once it notices movement, it snaps a picture and sends it to your phone without any cable connection.
Not many wireless birdhouse cameras are battery-operated. You can look into the Meidase S3 Pro Trail Camera if you already have a birdhouse that could use a camera. This high-technology camera has high video clarity, excellent night vision, and a fast motion detector.
Moreover, it has a timestamp on the footage, a loop recording option; it's password protected and waterproof.
Bird Nest Cameras
If you want to spot baby hummingbirds, you won't have much luck with a wireless birdhouse camera. This is because hummingbirds build their own nest between tree branches. But you might get lucky if you install a separate wifi camera in the branches where you notice some hummingbird traffic.
Bottom Line: Wireless Birdhouse Cameras
You don't have to be hanging by your window to spot some hummingbirds. Wireless birdhouse cameras can provide you with a peek into their daily routine whenever you want. When looking for a birdhouse camera, keep in mind the distance from your nearby power source and your wifi signal strength.
FAQ's
How does a wireless bird box camera work?
These cameras come with a large power cord and a USB cable that connects to your TV or computer. Some of them are battery-operated can have SD slots and apps that you can install on your smartphone. You can choose to record the footage the whole day or get a motion-activated camera that will take pictures when there's movement.
Meri is a passionate wildlife enthusiast with a special interest in hummingbirds. She loves to observe and learn about the different species of hummingbirds from around the world. After graduating from college with a degree in biology, Meri decided to pursue her dream of writing about hummingbirds and the importance of their conservation. She has since published several articles on the subject in various magazines and online publications. Her articles focus on the importance of habitat preservation, how hummingbirds contribute to ecosystem balance, and the unique behaviors of various species. When she's not writing, Meri enjoys bird watching and taking pictures of her feathered friends. She also volunteers at her local wildlife center, helping to protect and rehabilitate injured or orphaned hummingbirds. Meri's passion for hummingbirds drives her to spread awareness and promote their conservation, so that future generations will be able to enjoy their beauty.