Last Updated on March 28, 2022 by Cristina
Hummingbird weathervane can help you attract more birds in your garden or act as a unique decor piece. Weathervanes are not a new invention. They've been around for over 2000 years. But the materials, design, and positioning have changed through time.
Hummingbirds use their legs exclusively for perching, so why not give them something pretty to stand on? The weathervane will act as a nice detail whenever there aren't hummingbirds around.
Why You Need a Hummingbird Weathervane
The weathervane's primary purpose is to show from which direction the wind comes. The Greek astronomer Andronicus came up with the idea in 48BC.
The weathervane was invented when there wasn't another way to detect wind direction. Today we have much-advanced technology in our pockets telling us this information, so why do people still use weathervanes?
Hummingbird weathervanes are more of a garden decor than a necessity. But, on the other hand, they're easy to read from people who are not tech-savvy. And if you still wonder do weathervanes attract lightning, the answer is no. This is an old belief that was busted years ago.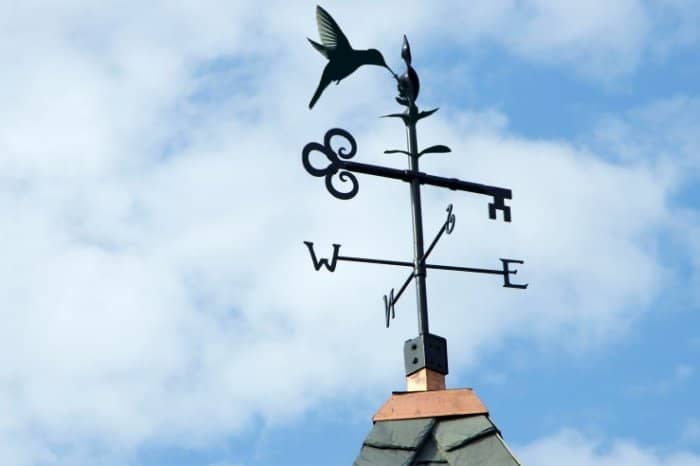 Keeping in mind that the weathervane will spend its whole life in the garden, you must pay attention to the material. What are weathervanes made of usually? Copper is an enduring but more expensive material; cast iron is cheaper, sturdy, but prone to rust, while steel is durable and flexible.
Weathervanes and Hummingbirds
Hummingbird weathervane is a label for a house that loves and welcomes the majestic bird. If you still don't have one, you probably wonder how the birds will interact with it.
Hummingbirds can't walk or hop. So whenever they want to catch a break from hovering, they will perch. If they're acclimated to your garden, you can see them perching on your fence or patio.
So, where is the best place to put a weather vane, so the hummingbirds interact with it? Weathervanes are usually positioned on your house roof or shed in the garden. If you don't plan on using the hummingbird weathervane as a weather tool, you can place it wherever you like.
The Best Hummingbird Weathervanes
At 15.5 inches in height, this weathervane will blend even with the most miniature garden. It's handcrafted entirely of copper with an adjustable garden pole, so you can place it wherever you like.
The detailed design includes a hummingbird hovering and eating out of a large trumpet-shaped flower. This is a timeless piece that will look better with time.
The design of this hummingbird weathervane includes one hovering bird and 4 open flowers. The detail on this weathervane is impressive; each flower has 7 perfectly shaped petals.
The entire figure is made of copper and is 15 inches tall, without the garden rod. However, it doesn't come with a roof mount, so if you plan on positioning it on your roof, make sure to purchase one.
If you're looking for a more budget-friendly version with a no-frills design, this is the one. This hummingbird weathervane is made out of varnished cast iron, so it's guaranteed to last a lifetime. The 2D design includes a hummingbird feeding on a potted tulip.
The weathervane alone is 19 inches tall and doesn't come with attachments.
There's a fine line between steel and cast iron weathervanes. So if you want a durable but less expensive weathervane, go with one of the two.
This is a 2D design that includes 2 hummingbirds drinking from 2 tubular flowers. The price includes a choice of 5 mounting pieces. For an additional cost, you can get a rain gauge and bracket. The element only is 10 inches tall.
The Weathervane Factory has a 14-inch tall copper weathervane with a single hummingbird feeding on an 8 petal flower. The design is 3D, and you can get it in natural or patina copper.
Copper weathervanes tend to change color in a while. If you want to keep yours sparkly, you can coat it every few months with polyurethane, and it won't tarnish.
How about an aluminum weathervane? Hand cast in the US and available in 3 finishes, this 12 inches tall weathervane is the cheapest on the list. In addition, it comes with a 5 feet garden rod, 2D design, and even a year-long warranty.
The design includes one large hummingbird feeding on a tubular vine flower with leaves.
This statement-making hummingbird weathervane with immaculate detail combines steel and cast iron. It's a little over 30 inches tall in a black finish, a hovering hummingbird, and a tubular flower. The design is a mix of 2D and 3D elements.
The weathervane comes with everything you need to install it.
How about a picturesque weathervane made in the UK? It's crafted out of steel in a black finish that will persist for years. The design is captivating; it includes a vine with 4 flowers, buds, and a hovering hummingbird. Even though it's 2 dimensional, it still has a lot of detail.
It's 14 inches tall and comes with all fixings included.
We are finishing up the list with some extravaganza. This custom-made hummingbird weathervane includes a branch with 3 star-shaped flowers and a hovering hummingbird.
It can be made in a wide list of materials, including copper, brass, and even silver and gold. The sizing depends on the amount of detail and types of material. Nevertheless, it's a decent splurge!
Bottom Line: Hummingbird Weathervane
A hummingbird weathervane is an excellent piece to add to your garden if you're a fan of hummingbirds. You can install it on your roof, shed, or even in the garden among the hummingbird's favorite flowers.
There is a vast choice of price and size on the market, so it's easy to pick one that suits your pocket!
FAQ's
Where is the best place to put a weather vane?
House roofs are the standard place to mount a weathervane. But to enjoy the beauty of the weathervane and eventual visitors, you can install it on a rod in your garden.
Do weathervanes attract lightning?
No, weathervanes don't attract lightning. However, if you think that your house is susceptible to lightning, it's best to include your weathervane in a professional lightning protection system.
What are weathervanes made of?
Weathervanes come in aluminum, steel, cast iron, copper, and more expensive materials like platinum, silver, and gold.
Meri is a passionate wildlife enthusiast with a special interest in hummingbirds. She loves to observe and learn about the different species of hummingbirds from around the world. After graduating from college with a degree in biology, Meri decided to pursue her dream of writing about hummingbirds and the importance of their conservation. She has since published several articles on the subject in various magazines and online publications. Her articles focus on the importance of habitat preservation, how hummingbirds contribute to ecosystem balance, and the unique behaviors of various species. When she's not writing, Meri enjoys bird watching and taking pictures of her feathered friends. She also volunteers at her local wildlife center, helping to protect and rehabilitate injured or orphaned hummingbirds. Meri's passion for hummingbirds drives her to spread awareness and promote their conservation, so that future generations will be able to enjoy their beauty.