Last Updated on February 13, 2022 by Guillermina
Searching for the best hummingbird feeders that don't leak is overwhelming; they all claim to do the same, so which one is a perfect choice?
When picking a new feeder, it's easy to get drawn to the most aesthetic one, with attractive shape and color. However, hummingbirds can be repelled by some colors and shapes. So instead of feeding the hummers, you might chase them away.
Leaky feeders are an absolute nightmare. The nectar spoils fast, and insects swarm it. You keep on refilling it, but there's hardly any nectar left by the following day.
So how do you keep a hummingbird feeder from leaking? By picking one of the top choices on the market with thousands of reviews. We've built a comprehensive list to spare you time and money!
Why You Need A Leak Proof Hummingbird Feeder
You've spent seasons attracting hummingbirds to your garden, and one faulty hummingbird feeder can cost you everything. Leaky feeder means waisted nectar. The hummers won't consume it off the ground, and it will draw in ants, bees, wasps, raccoons, and even bears! However, the hummingbirds will stay hungry and avoid your garden as it doesn't accommodate their appetite.
As the nectar drips over your plants or grass, it can create a bald spot in your garden. If you keep your feeder on the balcony, you'll have to deal with sticky floor stains.
As the nectar dries out on the feeder, the sugar blocks the openings and prevents the hummingbirds from feeding. Therefore, each time a refill is due, you need to clean it thoroughly.
Investing in one of the best hummingbird feeders that don't leak will save you hours of labor and money.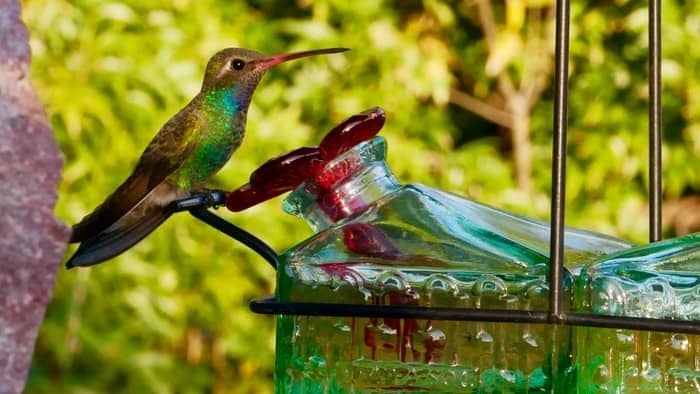 The Best No Drip Hummingbird Feeders
1. Aspects HummZinger HighView Hummingbird Feeder, 12oz
Surprisingly, the hummingbirds love this dish feeder with a perch. It comes with a red cover that's easy to remove to refill the feeder. It features 4 raised feeding ports that prevent the rain from diluting the nectar and an ant moat to stop intruders. The built-in hanging mount is very handy for positioning and relocating.
2. First Nature Hummingbird Feeder, 16oz
Featuring 10 ports and a red base with perch, this feeder is not only your but also the bird's favorite. Made out of plastic but with utmost tolerance of the sun, this feeder promises to endure whatever nature throws at it. The reservoir includes a wide mouth for an easier refill but no leaks!
3. Perky-Pet Prohibition Top-Fill Glass Hummingbird Feeder, 36oz
If many hummingbirds frequent your garden, this is a perfect choice. The 36oz glass feeder has a gasket that prevents leaks and 5 flexible plastic feeding ports. The ports are removable and act as bee repellents at the same time.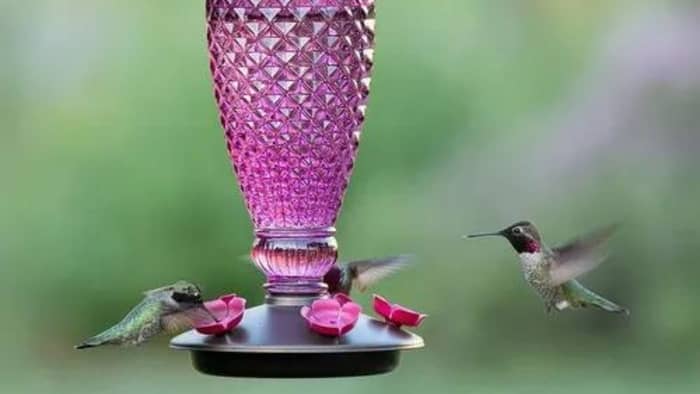 4. More Birds Bird Health+ Ruby Hummingbird Feeder, 10oz
When it comes to the best hummingbird feeders that don't leak, we can't forget this small yet mighty model. Made with recyclable parts and BPA-free plastic; it truly is a unique example. It comes with 4 feeding ports with bee guards and an integrated ant moat.
5. Muse Garden Hand Blown Glass Hummingbird Feeder, 25oz
You probably wondered if glass or plastic hummingbird feeders are better? What about an eye-catching ornamental piece for your garden with an integrated hummingbird feeder? The Muse Garden feeder is made from hand-blown glass and an iron metal cover with 4 feeding stations. It's truly a work of art that hummers love!
6. Wild Wings WWGHF1 Top Fill Hummingbird Feeder, 16oz
The most beautiful among the best hummingbird feeders that don't leak is our number 6. It's made from hand-blown glass, top-filled, and with a silicone gasket to prevent spills. There are 3 flower-shaped metal feeding ports with impeccable details. Extra easy to clean and use!
7.

Perky-Pet 8133-2 Daisy Vase Vintage Glass Hummingbird Feeder, 24oz
This vintage red feeder is vowed to draw in hummingbirds. It comes with a large glass bottle made from colored, not painted glass. The metal base features 4 metal feeding ports in the form of flowers. It's the type of feeder you only buy once and lasts for a decade. The built-in hanger and large capacity make it user-friendly.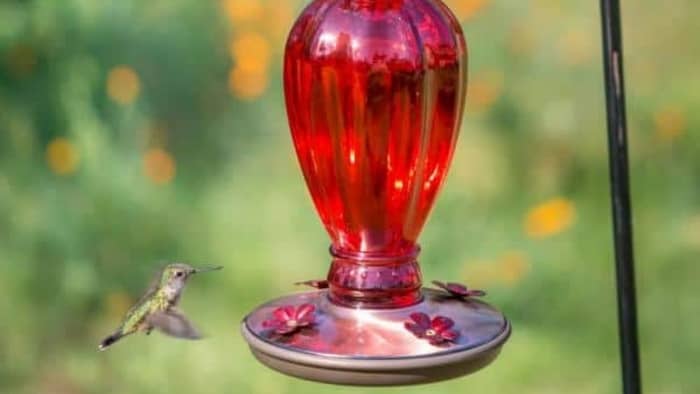 8. Juegoal Dish Hummingbird Feeder, 12oz
Finding some of the best hummingbird feeders that don't leak is not an easy task – and this model checks out all the boxes. It's dish-shaped with 8 ports to accommodate many hummers and extremely easy to clean and refill. It's excellent for beginners and budget-friendly!
9. Aspects Jewel Box Window Hummingbird Feeder, 8oz
One of the tiniest window-mounted hummingbird feeders features 3 raised feeding ports and an ant moat. It's leak-proof as you lift the hinged lid and fill the base. It's perfect for mounting on your living room window so you can sit and watch the hummingbirds.
10. Grateful Gnome Hand Blown Glass Hummingbird Feeder, 36oz
This feeder made from thick resilient hand-blown glass is not only decorative but highly functional as it's ensured never to leak. It comes with a metal base with perch and 4 feeding ports. The vibrant colors will draw numerous hummingbirds throughout the season. Clean and refill are a breeze!
11. WOSIBO Hand Blown Glass Hummingbird Feeder, 32oz
Made to imitate nature's most colorful blooms, the WOSIBO feeder consists of a glass bottle and a metal base. There's a gasket that prevents any leaks and a perch for the hummingbirds to rest while feeding. If you're looking for a highly decorative yet functional feeder, this is an amazing choice.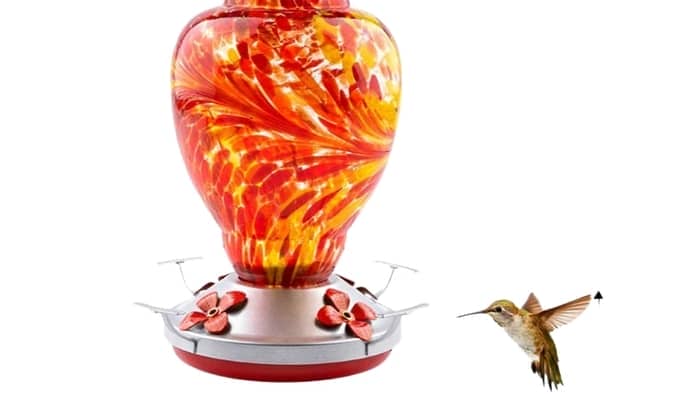 Final Say: Best Hummingbird Feeders That Don't Leak
Before you search the market for the best hummingbird feeders that don't leak, you need to consider your criteria. What material are you looking for, what size, and what's your budget? Once you have the answers to these questions, you can navigate through our list and pick a favorite.
It's important to remove and replace any leaking hummingbird feeder to protect your hummers and spare yourself some labor.
FAQ'S
How do you keep a hummingbird feeder from leaking?
Clean the feeder regularly every time you refill it. Disassemble all parts and thoroughly soak to dissolve any sugar that has crystallized in the screws and feeding ports. Don't expose it to full sun as the sugar is more likely to crystalize. And most importantly, don't neglect any leaking feeder as it can be unsafe!
Is glass or plastic hummingbird feeders better?
Plastic is more resilient, especially if your feeder is in a part of the garden where it gets windy. But not all of them are BPA-free and can easily get damaged in the sun. Glass, on the other hand, is more sanitary as it could never release any chemicals into the nectar or melt in the sun. But it's more prone to breakage.
Meri is a passionate wildlife enthusiast with a special interest in hummingbirds. She loves to observe and learn about the different species of hummingbirds from around the world. After graduating from college with a degree in biology, Meri decided to pursue her dream of writing about hummingbirds and the importance of their conservation. She has since published several articles on the subject in various magazines and online publications. Her articles focus on the importance of habitat preservation, how hummingbirds contribute to ecosystem balance, and the unique behaviors of various species. When she's not writing, Meri enjoys bird watching and taking pictures of her feathered friends. She also volunteers at her local wildlife center, helping to protect and rehabilitate injured or orphaned hummingbirds. Meri's passion for hummingbirds drives her to spread awareness and promote their conservation, so that future generations will be able to enjoy their beauty.