Last Updated on April 26, 2022 by Cristina
Thinking of how to clean hummingbird feeders with hydrogen peroxide and why should you? Let's clear up some doubts and provide you with safe cleaning tips.
Why is hummingbird feeder hygiene important? Even though hummingbirds don't have the same taste and smell senses, they will avoid contaminated feeders. Protecting themselves by avoiding leaky, sticky feeders full of ants is in their nature.
When it comes to proper cleaning, a simple water rinse is not enough. There's a lot of dust and debris gathered in the tiny feeding holes that won't come off easily. Read along to learn how to clean hummingbird feeders with hydrogen peroxide and kill harmful pathogens.
How Often You Need To Clean The Feeder
Hummingbird feeders are exposed to all the weather changes. Sun, wind, rain, all contribute to the state of the feeder: dusty, wet, spoiled nectar. So, as you might know, replacing the nectar once or twice a week is highly recommended. But not only because the hummingbirds might drink most of it.
As the nectar is made out of sugar and water, it can easily ferment in the sun. The sugary water also attracts unwelcome visitors like ants that can contaminate the feeder. When the feeder of choice is not equipped with suitable protectors, bees, wasps, and ants can easily penetrate into the liquid and create a harmful environment. The development of black mold is also not that rare. The mold leads to illness and eventual death.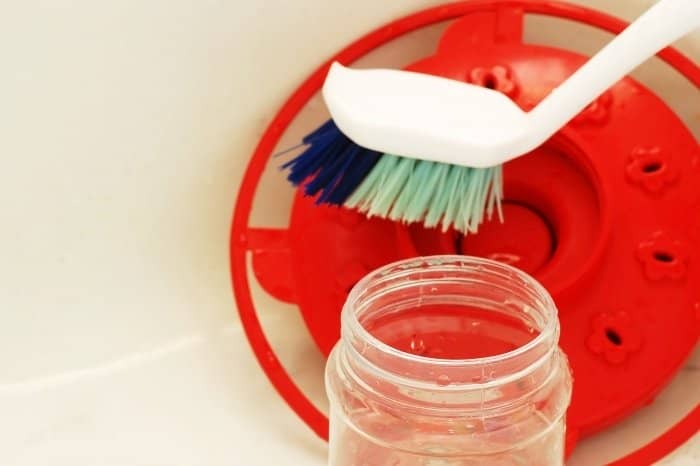 When you need to change the nectar, you also need to clean the feeder thoroughly. Simply draining the contaminated nectar won't eliminate some pathogens stuck to the feeder holes. But you also can't use just any solution. So how do you disinfect a hummingbird feeder? Soap residue on the feeder can deter and harm hummingbirds. That's why you need to learn how to clean hummingbird feeders with hydrogen peroxide.
Hummingbirds Avoid Contaminated Feeders
Hummingbirds can't pride themselves on powerful smell and taste senses, but they have protective animal instincts. So once they taste fermented or spoiled hummingbird nectar, they will stay away from the feeder.
The bad news is that hummingbirds have an excellent memory; once they taste bad nectar, they avoid the feeder for a long time. It's essential to know how to clean hummingbird feeders with hydrogen peroxide so you won't lose all hummingbird visitors.
Can Hummingbirds Die From Dirty Feeder?
We're focusing on how to clean hummingbird feeders with hydrogen peroxide because it's exceptionally powerful against mold.
Black mold is a mighty killer of hummingbirds. Once the bird drinks nectar with black mold, it ingests the spores, leading to tongue swelling. Since hummingbirds can only feed using their furry tongue, this leaves them to starve.
Black mold is a result of fermented nectar, which has been standing in the feeder or direct sun for too long. It can also be brought into the feeder by another infected insect or bird. Daily monitoring of the feeder eliminates the chances of spreading the illness further.
Brushtech B122C Hummingbird Feeder Cleaning Kit
What Is Hydrogen Peroxide
Hydrogen peroxide is often used as an antiseptic when getting a minor cut or open wound. It's shown to be effective in killing harmful microorganisms like spores, yeast, viruses, and fungi. Since we're aiming to kill these microorganisms, we're focusing on how to clean hummingbird feeders with hydrogen peroxide.
Check Out What Do Hummingbirds Make Their Nest Out Of? The 3 Best Thing You Can Provide
How To Clean Hummingbird Feeders With Hydrogen Peroxide
So what are the 5 easy steps to clean a hummingbird feeder? The method is similar whether you're learning how to clean hummingbird feeders with hydrogen peroxide or another solution.
First, start by emptying the feeder. Then, discharge all the nectar into the drain, don't pour it into the garden.
Disassemble the feeder, removing all the small components.
Make a solution of water and hydrogen peroxide in a ratio of 2:1. Soak all the hummingbird feeder parts and let them sit in the solution for at least 30 minutes.
Use a bottle brush to reach the crevices of the feeder, and rinse. Let it dry thoroughly in the sun if possible.
Reassemble and fill the feeder with freshly made nectar. Remember to repeat the process in 3 to 4 days in the summer and once a week in the cooler months.
What Else Is Equally Effective As Hydrogen Peroxide
Although hydrogen peroxide is a staple in every first aid kit, you might not have it in your household at the moment. So you're wondering can you clean hummingbird feeders with bleach? Or will vinegar hurt hummingbirds?
White vinegar is equally potent as hydrogen peroxide and won't hurt hummingbirds. Use it in the same ratio of 1 part vinegar and 2 parts water. When it comes to cleaning, make sure you're sticking with white distilled vinegar.
Bleach is much more powerful and must be used with caution. The solution needs to have 1 part bleach and 9 parts water. Apply the same process we learned on how to clean hummingbird feeders with hydrogen peroxide. Soak all the feeder parts, scrub, rinse and dry thoroughly.
Bottom Line: Hydrogen Peroxide And Hummingbird Feeders
Soap and water are not the duo you need for cleaning hummingbird feeders. If you're a beginner enthusiast, you must learn how to clean hummingbird feeders with hydrogen peroxide. The hydrogen peroxide kills mold spores and fundi, which commonly develop on feeders.
While soap can leave residue and doesn't always kill microorganisms, hydrogen peroxide won't disappoint. Regular feeder cleaning is essential in keeping your hummingbirds healthy and well-fed. If you're struggling with enough free time to perform this every few days, it's better to plant more nectar-rich flowers and remove the feeders.
FAQ's
How do you disinfect a hummingbird feeder?
You can disinfect your feeder by soaking it in a 1:2 hydrogen peroxide and water solution, 1:2 vinegar, and water solution, or 1:9 bleach and water solution. Make sure you brush well between the crevices and dry thoroughly.
What are the 5 easy steps to clean a hummingbird feeder?
The 5 steps include: disassembling the feeder, making the solution, soaking and then brushing the parts, and air drying before the refill.
Can you clean hummingbird feeders with bleach?
Yes, you can use bleach to lean the feeder, but you must dilute it with water in a ratio of 1:9. Use it the same as a hydrogen or vinegar solution.
Will vinegar hurt hummingbirds?
Vinegar won't hurt hummingbirds, and it's safe to use for cleaning the feeder. Simply dilute it with 2 parts water.
Meri is a passionate wildlife enthusiast with a special interest in hummingbirds. She loves to observe and learn about the different species of hummingbirds from around the world. After graduating from college with a degree in biology, Meri decided to pursue her dream of writing about hummingbirds and the importance of their conservation. She has since published several articles on the subject in various magazines and online publications. Her articles focus on the importance of habitat preservation, how hummingbirds contribute to ecosystem balance, and the unique behaviors of various species. When she's not writing, Meri enjoys bird watching and taking pictures of her feathered friends. She also volunteers at her local wildlife center, helping to protect and rehabilitate injured or orphaned hummingbirds. Meri's passion for hummingbirds drives her to spread awareness and promote their conservation, so that future generations will be able to enjoy their beauty.