Last Updated on November 18, 2021 by Guillermina
Hummingbirds are tiny migratory birds that are notorious for some of their unique features. These birds are found in Oregon at a different season of the year. This is a guide on the different types of hummingbirds in Oregon.
For enthusiast who enjoys spending time watching these tiny beautiful birds, it would be great to know about the different types that exist. These birds are constantly on the move from one region to another.
Knowledge of the types of hummingbirds and their variations will help in knowing what bird to expect in your region and at what period. The different types of hummingbirds have their distinctive attributes and these will be discussed in this guide.
The length of time within which they stay in Oregon and the period when they are expected to be gone from Oregon will be discussed. This guide will also speak on when to expect the glorious return of these birds back in Oregon.
Migration Map Of Hummingbirds In Oregon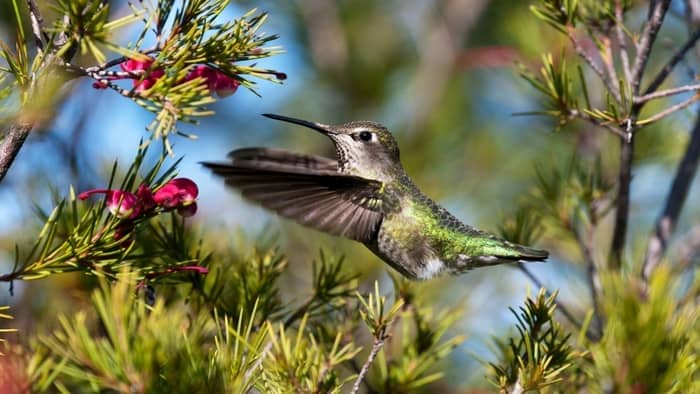 The following should be noted about the migration of hummingbirds to Oregon:
Not all hummingbirds migrate in Oregon. Some species of hummingbird live in Oregon all year round, while the migratory ones enter into Oregon for breeding and after some time, they leave. Anna's hummingbird is the only species that stays all year round in Oregon.
The migrating hummingbirds usually arrive in March and the early weeks of April. As more flower begins to blossom and the weather becomes friendlier to these hummers, you will start to see the birds arriving in Oregon in more numbers.
The migrating species visit Oregon during the breeding season to build their nests. These birds usually arrive around this time as it is their breeding season. They start building their nests immediately after they arrive at Oregon in preparation for mating and laying of eggs. The female hummingbirds are only responsible for their offspring. The males don't take part in this.
Hummingbirds are better-observed post-breeding. However, if you're lucky to have them breed close to your spot, you can also observe them from afar especially at your feeders.
Most of the migrating hummingbird moves out of Oregon in September. The migrating species of hummingbird usually leaves Oregon around September but some may linger a bit and leave late. You will therefore notice that the number of hummingbirds of other species apart from Anna's hummingbird reduced significantly in September.
The Different Types Of Hummingbirds In Oregon
Different species of Hummingbirds can be found in Oregon. So they include:
1.    Anna's Hummingbird
Anna's hummingbirds are residence in Oregon. Therefore, they are the most commonly found here and they remain within this region all year round.
This species usually comes in very bright colors such as purple, blue, pink, etc. The males are notorious for having very beautiful pinkish or reddish heads. The females usually have a duller feather color when compared with the males.
Anna's hummingbird apart from humming is also capable of singing a song and whistling. This species hardly migrates like the other species.
2.    Black-chinned hummingbird
Black-chinned hummingbirds are seasonal to Oregon. They may arrive in Oregon in May and they usually leave in October.
From river bottoms to desert canyons, to gardens, to oak trees and open woodlands, they can be seen in almost every habitable place for a bird. When it is not in flight, its wingtips are relatively broad and curved.
This gives it a different look from other hummingbirds. The black-chinned hummingbird usually makes a distinctive hum with its wings.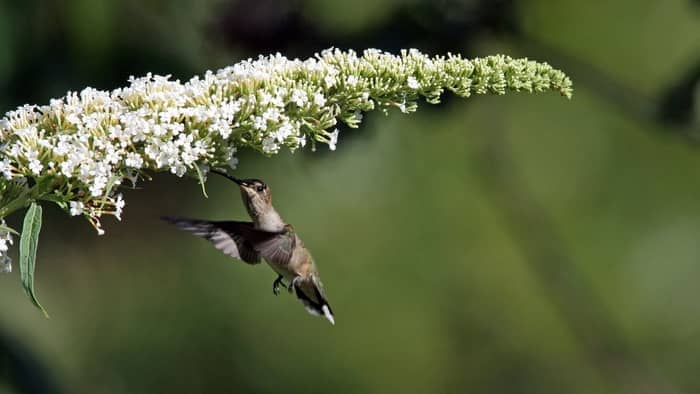 3.    Rufous Hummingbird
Rufous hummingbirds in Oregon are seasonal species. So, they begin to arrive in Oregon as early as February ending and they tend to leave around October.
This species is notorious for being the most aggressive type of hummingbird that may be found in Oregon.
They always like to use hummingbird feeders and will do almost anything to have it to themselves by fighting off other species of hummingbirds. The males usually have a bright orange and black feather color.
4.    Calliope Hummingbird
Calliope hummingbirds are as well seasonal to Oregon. So, this hummingbird species are usually spotted in Oregon from March and October.
This is the smallest hummingbird that can be found in Oregon. It is usually a little less than four inches in length and weighs less than 3 grams.
The males are very easy to identify because they have long magenta throat feathers which are usually black, while most of the other parts of their bodies are brown. The females merely have a dark spot on their throats.
The males are notorious for their ability to have a u-shaped dive. This is also a way through which they attract females.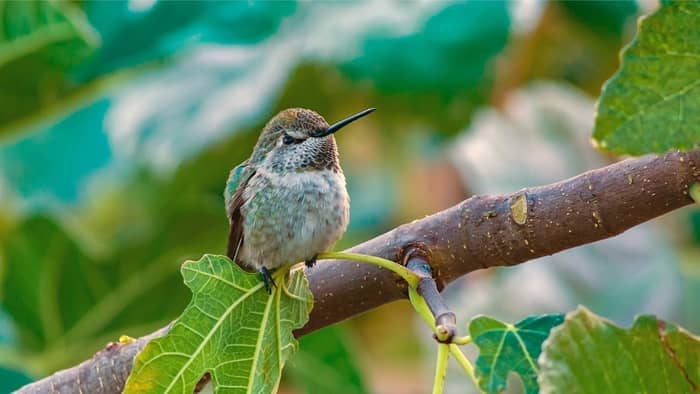 5.    Allen's Hummingbird
Allen's hummingbird is seasonal to Oregon. Sighted in Oregon between March and August.
This species is very selective when choosing its habitat. It uses the narrow strip of coastal shrubs alongside the chaparral habitat located along the pacific coast for its mating and raising of young ones.
Identified by its black tail and its copper-colored feathers.
6.    Costa's Hummingbird
Costa's hummingbird is rare or vagrant to Oregon. This is a very compact and small hummingbird with a unique hunched posture. Characterized by very short tails.
The Costa's species has a bright-purple face and dull white feathers. These birds usually are more comfortable living within a dry habitat where they are exposed to mild sunlight.
Parks, gardens, and high mountains are good habitats for Costa hummingbirds.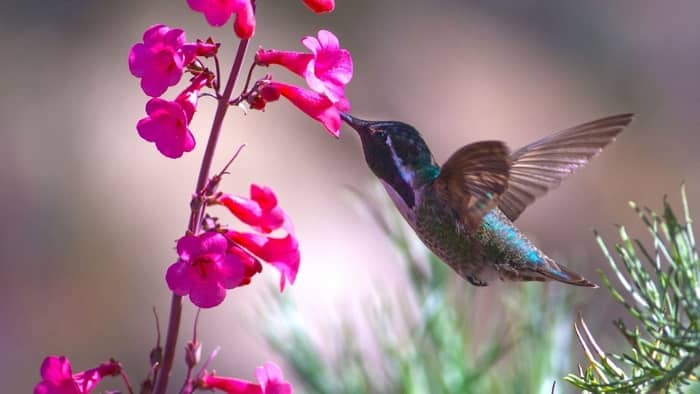 7.    Broad-billed Hummingbird
The broad-billed hummingbird is a rare species of the hummingbird.
Sightings of Broad-billed hummers in the southeast of the state, during summer, as well as in Steens Mountain. They also prefer to live in higher elevation spots.
Read more about Hummingbird Season In Houston –Their Arrival And Departure
Types of Hummingbirds In Oregon: Conclusion
Hummingbirds come in a series of species to different regions. Some are common, while others are rare. This guide gives a good description of the different types of hummingbirds that can be found in Oregon.
This guide also answers the question of when do hummingbirds return to Oregon as well as how long do hummingbirds stay in Oregon.
So, birders interested in enjoying the presence of these sweet hummingbirds in their yards can have some knowledge of the different species and their distinctive features.
Eunice is a passionate lover of hummingbirds and all things nature. She loves to observe and study the tiny birds, learning about their unique behaviors and unique features. She has written a number of articles about hummingbirds and their habitats, which have been featured in a variety of publications. In her spare time, she enjoys visiting hummingbird sanctuaries and going on bird–watching trips in her local area. She also volunteers with local wildlife rescue organizations, helping to rehabilitate injured birds. When she's not outdoors, Eunice can be found writing articles, creating bird–inspired art, and playing the flute.