Last Updated on January 10, 2023 by Cristina
Check out this article to learn all about fall flowers that attract hummingbirds.
As the season shifts from long and sunny to rainy and colder days, and daylight diminishes, it can seem to us that our yards are dull, boring, and less and less lively. Unfortunately, many gardeners make the mistake of thinking that the growing season is over, but with a smart and well-thought-out plan, that doesn't have to be the case for you. Trust us, there is still plenty of life in your yards and gardens that is sure to please the eyes and bring benefits to pollinators.
Take a look at this article and find out everything you might be interested in about fall flowers that attract hummingbirds.
What Kinds Of Flowers Do Hummingbirds Like?
For centuries, people have been literally obsessed with these amazing flying creatures. Almost no person wasn't taken aback when they met them live for the first time. They are often found in gardens sipping nectar from brightly-colored, tubular flowers. The thing is that this type of flower is usually the richest in sweet liquid that guarantees the life of these birds.
Based on various research, it has been proven that these birds are crazy about red. But this fiery color is not the only one, orange, yellow, and sometimes blue and purple can be a hit to attract hummingbirds to your garden. When choosing fall flowers that attract hummingbirds, it is only important to opt for those that are rich in nectar.
What Are Hummingbirds Favorite Flowers?
Hummingbirds, although the smallest birds in the world, are voracious eaters! Nectar is the fuel that propels them through all the stunts and challenges ahead and means the difference between life and death.
There are a number of great hummingbird nectar-rich plants, both perennials, and annuals, with tubular flowers, brightly colored and best of all, growing where it's easy for tiny hummers to hover and sip.
These are the varieties that have been proven to work:
Cardinal Flower (Lobelia Cardinalis)
Bee Balm (Monarda species)
Hosta (Hosta Species)
Catmint (Nepeta Species)
Eastern Red Columbine (Aquilegia Canadensis)
Trumpet Honeysuckle (Lonicera Sempervirens)
Zinnia (Zinnia Elegans)
Flowering Tobacco (Nicotiana spp)
Trumpet Vine (Campsis radicans)
Now that you know what kind of flowers they prefer, we will show you some of our favorite fall flowers that attract hummingbirds.
Fall Flowers That Attract Hummingbirds
You are probably feeling a little sad because summer is fading but trust us, with these fall hummingbird flowers you can create a marvelous floral display that will at the same time brighten up your landscape and nourish these hard workers that are integral to keeping our crops and flowers alive. Well, let's get into the details!
Ironweed (Vernonia spp)
Most of you have probably seen it blooming by the side of the road at least once in your life, as starts blooming in late summer all over the country.
This eye-catching plant has tall, dark stems and produces clusters of tiny purple-reddish flowers. What is particularly interesting to us is the origin of the name of this plant. Namely, Ironweed has strong and tough stems that are quite inconvenient and sometimes impossible to pull out, hence the name.
Wildflower Seeds Butterfly and Humming Bird Mix – Large 1 Ounce Packet 7,500+ Seeds
Furthermore, there are many different types of ironweed, approximately 15 in the eastern US with more in the west. Still, the most important advice we can give you is not to experiment and thereby endanger the ecosystem of your community but opt for native, non-invasive species.
Goldenrod (Solidago spp)
The beautiful Goldenrod is one of the most important late-season pollinator plants. Maybe some of you will roll your eyes because this plant has a bad reputation for causing allergies, but that is far from the truth. In fact, the culprit is not this wildflower but the ragweed that starts blooming at about the same time, hence the confusion.
There are really many varieties to choose from, at least 130, but mostly they are golden yellow in color with a few varieties with white flowers. Now, the most important thing to say, each and everyone is full of nectar and pollen, and therefore, can provide enough food for both hummingbirds and bees. Two birds with one stone, right?
Aster (Aster spp)
Are you looking for fall flowers that attract hummingbirds? Look no further than Aster. This beauty, which comes in a wide variety of colors, sizes, and shapes, is a great choice if you want to avoid a dull, boring, and sparse atmosphere in your garden or yard.
Did you know that there are at least 600 species of Asters in the world? Experts consider it a magnet for hummingbirds as it grows in a mound-like shape and produces a lot of sweet nectar.
Pineapple Sage (Salvia Elegans)
Speaking of fall flowers for hummingbirds, you have to give Pineapple Sage a chance. Let's clear it up right at the beginning, it is true, Pineapple Sage does indeed smell like a pineapple!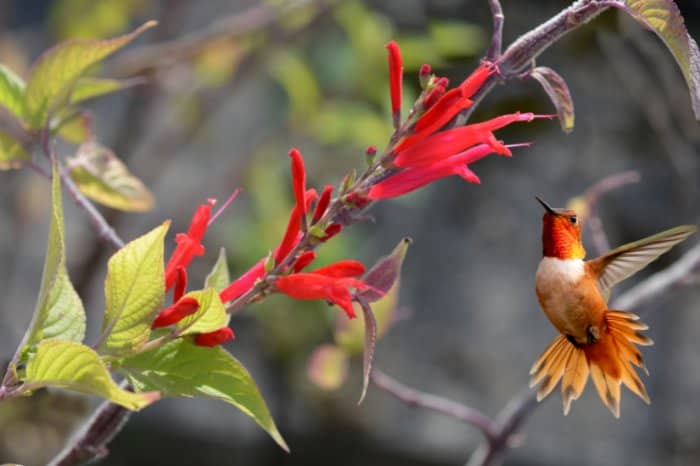 So far, we haven't had the opportunity to meet a single small hummer that refused to land on this beauty queen, as it starts blooming in late summer to early fall when food sources are usually less abundant. As if that wasn't interesting enough for now, here's another fun fact. In fact, this variety of Sage is sensitive to light, meaning it won't flower until the days are generally shorter than the nights.
Abstract – Fall Flowers That Attract Hummingbirds
In short, each of these plants is "hummingbird friendly," which basically means that it either provides nectar or attracts insects that are crucial to hummingbirds while they are nesting. They are very easy to grow, require very little to no maintenance, and are guaranteed to make your garden or yard the most attractive in the neighborhood!
Which of these fall flowers that attract hummingbirds would you give a chance? Tell us more in the comment section below!
Read more: Do Hummingbirds Like Roses? The Long-Awaited Truth About These 2 Wonders Of Nature