Last Updated on November 28, 2022 by Cristina
This is a list of the best annuals for hummingbirds and butterflies that you can't go wrong with.
Love watching pollinators frolic in your garden and looking for a way to attract even more of them? You have come to the right place. Attracting nature's jewels to your garden is easy once you realize that planting their favorite plants is a winning combination.
It's true that feeders filled with divine liquid work, but planting a variety of annuals works even better. Don't worry, your location doesn't play too much of a role (as long as you're in America) it's pretty easy to attract them to your backyard, you just have to offer them what they need. To make things easier for you, we have compiled this list of the top 4 annuals for hummingbirds and butterflies. So, if you're in favor, let's get straight to the point.
Creating A Breathtaking Hummingbird Butterfly Garden
With thousands of flying creatures migrating south during the winter, these amazing fliers need good food sources to fuel their journeys, therefore, the best thing you can do if you want to achieve life-sustaining for your flying friends is to make your garden suitable for their needs.
That being the case, when choosing and buying the best plants for butterflies and hummingbirds, always remember that the brighter the flowers, the better. Another factor you should never forget is to choose annuals with a longer blooming season to help them later in the season. To make it easier to choose, we put together this list of the most suitable annuals for hummingbirds and butterflies. So let's go into details.
Annuals For Hummingbirds And Butterflies
Cape Fuchsia
Cape Fuchsia is a semi-evergreen flowering plant that can grow from 3 to 5 feet and is native to South Africa. It got its characteristic name precisely from the Cape of Good Hope.
Feel free to consider this plant your top choice because it truly has a long flowering season that lasts from May to November. Trust us you will be treated to brilliant colors during this period which can vary from yellow, peach, coral, magenta, and red, however, it all depends on the variety you have.
You know what's best of all? Cape Fuchsia has 2-inch long tubular flowers that hang upright or vertically on stems, and if you have ever read any of our articles before, you should know that these features are ideal for hummingbirds as well as for butterflies.
Cape Fuchsia is easy to care for, it has no special requirements for the soil, it is only important that it receives the necessary amount of sunlight and that it is watered regularly. P.S. It spreads very quickly, so it could easily overwhelm other shorter plants.
Canary Creeper
One of the most adored hummingbird and butterfly flowers is the beauty called Canary Creeper. This flowering vine comes from the Nasturtium family, and any seasoned bird watcher knows that they will rarely refuse to feed on the super tasty nectar that this plant provides in abundance.
How about an interesting fact? Although its name may indicate that it's a slow-moving or slow-growing plant, the reality is completely different. Namely, did you know that the Canary Creeper can grow up to 12 feet in length in just one year?
Hummingbird Gardens: Attracting Nature's Jewels to Your Backyard
Another interesting thing about this eyeful plant, which also makes it one of the most ideal annuals for hummingbirds and butterflies, is its characteristic flowers. As for the appearance of the flower itself, it has two lovely, yellow, upper-fringed petals that somehow remind us of canary wings, as well as three smaller, lower, spurred petals below. Trust us, your flying friends won't say no to it.
You Might Want to Read these Related Articles:
Salvia
Salvia, also known as Sage is one of the most aromatic plants around. With over 1000 species of these members of the mint family, this is one of the top choices to attract hummers, bees, and butterflies. As if there weren't enough pluses, but we have to mention that flowers are perfect for cutting and adding to vases and keeping around the home.
Many autochthonous species of sage are resistant to drought and thrive even in extremely warm regions, and the most recognizable is its tubular blossoms in various colors.
We don't know how many of you have noticed, but it's not hard to see that these annuals have evolved along with hummingbirds. Namely, the connection between this flower and the flyer is so strong that it seems as if they are a perfect match because their bills can easily enter the flower and open a trapdoor that deposits pollen on their heads, and in turn, the plant rewards them with rich nectar.
Cypress Vine
Speaking of annual flowers that attract hummingbirds and butterflies, does it make sense not to say a few sentences about Cypress Vine?
The Cypress Vine can be grown in both ways, i.e. as an ornamental plant that can be a perennial in the tropics, but also as an annual vine in winter regions. Although at first, it may seem like a delicate plant due to its dainty flowers and fragile-looking leaves, keep in mind that in many regions it is considered an extremely invasive species that tends to overcrowd other plants and overwhelm nearby structures.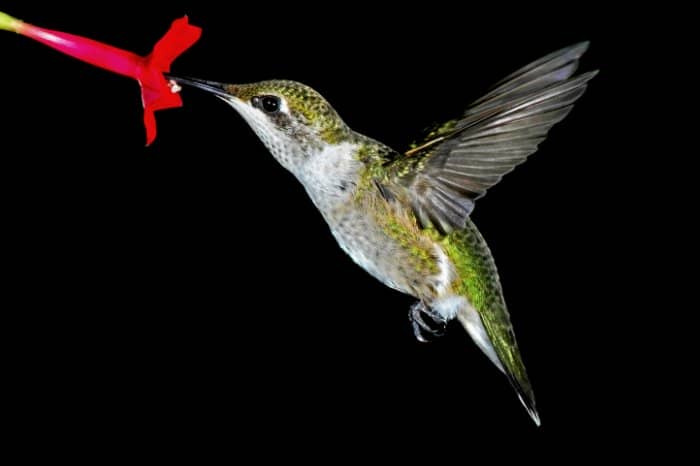 Having said that, this beauty is still one of the best annuals for hummingbirds and butterflies. Let this be supported by the fact that many call it the "hummingbird vine", all because of its bright, trumpet-shaped flowers rich in nectar. This plant is simply a magnet for hummers.
Take Out Time to Also Read:
To Draw To A Close: Annuals For Hummingbirds and Butterflies
The Cypress Vine, Salvia, Canary Creeper, and Cape Fuchsia are just a few of the plants you can't go wrong with. Therefore, don't hesitate to plant our top 4 recommended annuals for hummingbirds and butterflies, trust us, with a little effort you can really make these fluttering beauties enjoy your garden as much as you!
We hope you found this article useful. If you have any questions, let us know in the section below.
You might also like this article: How Many Varieties Of Hummingbirds Are Out There?